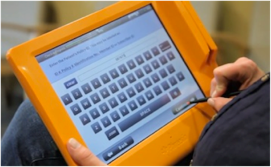 The Computer Facilitated-5A's (CF-5A's) Intervention for smoking cessation is a program application developed by UCSF researchers for the PhreesiaPad using the latest in research. The innovative model takes advantage of the convenience, privacy, and time savings of computer tablets while still preserving and utilizing the power of the provider-patient relationship. Patients complete most of the CF-5A's Intervention assessment screening on the PhreesiaPad prior to their appointment, while in the clinical waiting area. Tailored, personal summaries are auto-generated for the provider and the patient to highlight key clinical findings, recommend next steps, and review local smoking cessation resources. In partnership with Phreesia, UCSF was granted an opportunity to add two key innovations to the PhreesiaPad's existing system:
The CF-5A's Intervention assessment for smoking cessation was added to the PhreesiaPad's menu to begin data collection of patient's: current smoking habit; smoking and cessation history; level of readiness to quit; and current cessation interests and requests. Motivational statements and feedback are nested throughout the "interview" and are included in the tailored patient summary.

The CF-5A's clinical summary is a decision tool and treatment guide to better inform the provider in appropriate 5A's usage, cessation planning, resources, pharmacotherapies and provider conversation prompts for patients wanting to quit, and motivational prompts for patients who may not be ready to quit.