Integrating the PDF Smoking Cessation Guide, page 1 of 3, into a clinic's electronic health record system can be implemented with pre-existing EHR systems. Phreesia has made the clinic's process of EHR storage convenient by allowing users to pull PDF files from the dashboard and store in patients' personal electronic health records. Only the Smoking Cessation Guide document should be used for billing and as part of a patient's health record.  The Provider Reference Guide, page 2 of 3, can be discarded once used and the Smoking Health Assessment, page 3 of 3 is intended to be kept by the patient.
For further EHR integration support contact your Phreesia representative or refer to the Certified Health IT Product list (HealthIT.gov.). A comprehensive and authoritative listing is available with certified Health Information Technology that has been successfully tested and certified by the Office of the National Coordinator (ONC) Certification program. This site includes but is not limited to: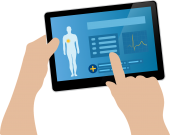 *Electronic Health Records (EHR) are synonymous with Electronic Medical Records (EMR).